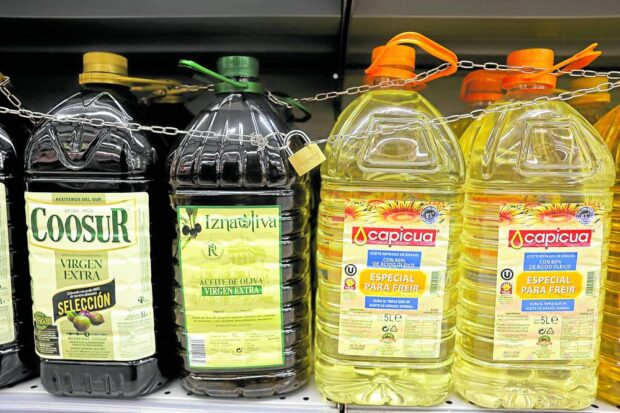 MADRID — In Spain, the world's biggest olive oil producer, supermarkets are locking up bottles of the staple cooking oil as prices rise and theft increases.
One-liter bottles of extra-virgin olive oil sell for as much as 14.5 euros (P879.19) in some supermarkets, pushing olive oil into the category of products that retailers have safety labels for, alongside spirits, cosmetics and home appliances.
"We are seeing a huge increase in shoplifting," said Ruben Navarro, CEO of supermarket chain Tu Super, which operates 30 stores in the Spanish region of Andalusia. "Olive oil has become an ideal product to steal."
Olive oil prices, now officially at 8 euros (P485.05) per liter, have risen 150 percent over the past two years in Spain as a devastating drought in the south hampered the olive harvest. Organized crime gangs are stealing the oil to resell, Navarro said.
Since September, Tu Super has chained large 5-liter bottles of olive oil and padlocked them to shelves to prevent theft.
"It's a crazy, extreme measure, but it worked," Navarro said.
Tu Super is not the only one reinforcing security: in some Carrefour and Auchan supermarkets in Madrid, one-liter bottles are equipped with security labels that must be removed by employees.
Anti-theft devices
STC, a Spanish company that provides anti-theft solutions to retailers, has seen a 12-fold increase in orders from supermarkets this summer for devices to protect olive oil bottles, managing partner Salvador Canones told Reuters.
Spanish police also discovered theft of olive oil from mills and in October arrested two people as part of an investigation into the theft of 56 tons of extra-virgin olive oil.
Families in Spain typically buy olive oil in bulk for cooking. Among the world's largest consumers of olive oil, they have already reduced significantly: extra-virgin olive oil sales volumes fell 17 percent in the 12 months to September, according to NielsenIQ.
While thefts of olives and olive oil have especially increased, measures taken by supermarkets also reflect a broader increase in shoplifting. Leading Spanish business organization CEOE said there was a 30 percent increase in repeat robberies targeting retailers in 2022, and a further 12 percent so far in 2023.
In Spain, thefts of goods worth less than 400 euros are not punished, unless they are repeated.
Navarro said thieves were taking advantage of fewer employees in stores and that thieves' often abusive behavior toward workers was exacerbating labor shortages.
"Our own workers live in fear after the robberies… some of them even end up quitting their jobs," he said. —REUTERS