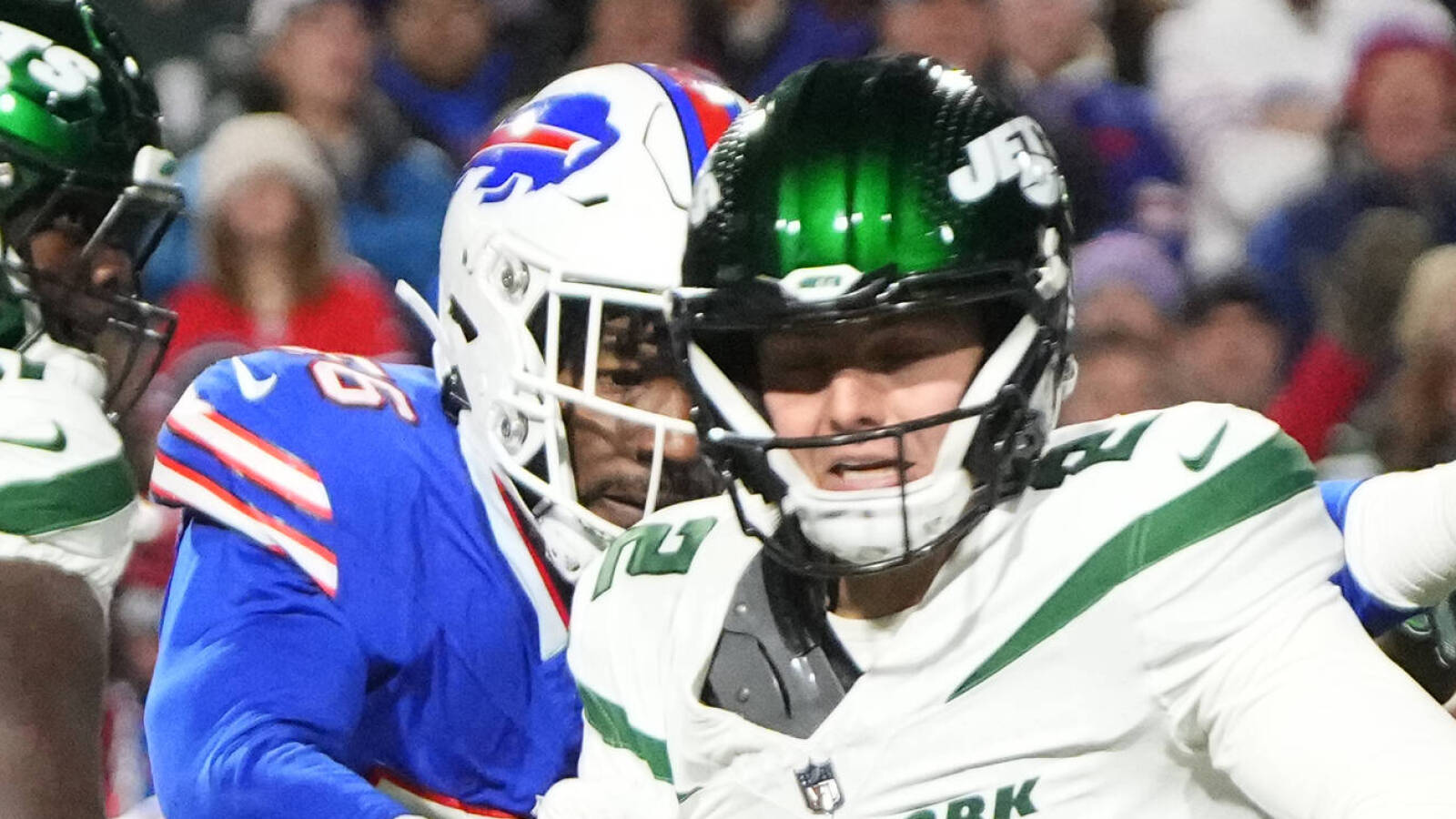 Not every player, coach and team can shine. With that in mind, let's take a look at some of the more remarkable moments and performances from Week 11:
Zach Wilson, QB, New York Jets: Sunday could have been the end of the Wilson era in New York. After head coach Robert Saleh spent the better part of 10 weeks encouraging Wilson to reporters and committing to selecting the former No. 2 pick as the team's starting quarterback, Saleh finally gave up and benched Wilson for Tim Boyle in Sunday's loss 32-6 to the Buffalo Bills.
The numbers weren't pretty – 7 of 15 for 81 yards, a touchdown, an interception and five sacks – but Saleh's willingness to finally try something different may have signaled that his time with Wilson was over.
Now everyone's wondering, will the Jets add another QB this week before facing the Miami Dolphins the day after Thanksgiving?
Everyone, Carolina Panthers: The Panthers front office did rookie QB Bryce Young a great disservice by trading away a weapon like DJ Moore, leaving him with 33-year-old Adam Thielen and a bunch of young and inexperienced pass catchers to throw to. Young was sacked seven times and threw for just 123 yards in Sunday's 33-10 loss to the Dallas Cowboys as the Panthers lost their ninth game of the year.
Head coach Frank Reich does supposedly are sitting in a very tight spot, with the Panthers potentially entering the offseason without a first-round pick and looking for a new head coach to mold their undersized franchise quarterback ahead of Season 2, with neither a chance for a legitimate No. 1 receiver or any other competent offensive line, to protect him.
Brandon Staley, head coach of the Los Angeles Chargers: Chargers owners are probably running out of patience with Staley. The Chargers somehow turned a 13-10 lead into a 23-20 defeat in just over a quarter, marking the fourth time in their last six games that they trailed.
Justin Herbert, who most consider a top-five QB talent, actually has a losing record (29-30) as the Chargers' starter, and the best years of his career have been wasted by Staley's inability to get the most out of one of the more talented lineups in the NFL . Staley appears to be coaching on borrowed time, and it's likely (barring a miraculous preseason run) that the Chargers will be looking for a new head coach in January.
Mike Vrabel, head coach, Tennessee Titans: Vrabel actually had quite a bit of success as the Titans' head coach. But the last season and a half has been brutal to watch. After Sunday's 34-14 loss to the Jacksonville Jaguars, Tennessee is now 3-7 and likely to be a top-10 draft pick in April.
Vrabel hasn't had to worry about job security over the past five seasons in Nashville, but after a 20-point loss to a division rival, his seat is at least a little warm. It's hard to imagine controlling owner Amy Adams Strunk moving on from Vrabel considering how much she sold him to fans for the team's future, but if things get much worse, anything is possible.
Matt Eberflus, head coach of the Chicago Bears: In his first game in over a month, Justin Fields put the Bears in a good position to defeat the NFC North-leading Detroit Lions. Fields led Chicago 26-14 with 4:15 left in the fourth quarter, and yet the Bears somehow found a way to squander a double-digit lead in the final five minutes and lost 31-26.
Eberflus, who took over defensive calling duties after Alan Williams left the team in Week 2, bears most of the blame for allowing the Lions to score two touchdowns in less than four minutes and win a game he had no right to win.
Chicago is 26th in passing yards and fourth in points allowed per game, and Eberflus may be in the final stretch as the Bears' head coach.
Kenny Pickett, QB, Pittsburgh Steelers: After investing the 20th overall pick on the 25-year-old QB two seasons ago, it would behoove the Steelers to get an offensive coordinator next year who knows how to set Pickett up for success, as Matt Canada has failed him on every turn.
In Sunday's 13-10 loss to the Cleveland Browns, Pickett passed for just 106 yards and didn't score a touchdown for the second straight game. In fact, he has just one touchdown pass in his last five games and two in his last seven. As long as Canada continues to field, fans shouldn't expect much from Pickett.
Will Levis, QB, Tennessee Titans: Levis impressed enough in his first two starts to steal the starting job from 35-year-old Ryan Tannehill. However, in the two games since then, he has earned turnovers – literally and figuratively – thanks to an offensive line that seemingly puts him out to dry on a game-by-game basis.
Levis was pressured with 46.6% of his losses in Week 11, according to Pro Football Focusand was clearly under pressure every time he trailed in Sunday's 34-14 loss to the Jacksonville Jaguars.
Since he was actively trying to escape, Levis didn't have time to get back on his feet and show off his cannon. At this rate, Levis will do well if he makes it to the end of the year injury-free.
Dalvin Cook, RB, New York Jets: Cook signed with the Jets in the offseason because he wanted a chance to play with Aaron Rodgers. Instead, he played 10 games, playing second fiddle to Breece Hall in Wilson's offense. Cook had just two carries for 13 yards in Sunday's 32-6 loss to the Bills – his ninth straight game with fewer than 10 carries.
Cook totaled 49 carries for 160 yards in 10 games, and with the Jets playing from behind in most games, he was relegated to the sideline. Cook is likely frustrated with his role in one of the worst offenses in the NFL, and that likely won't change until Rodgers returns.