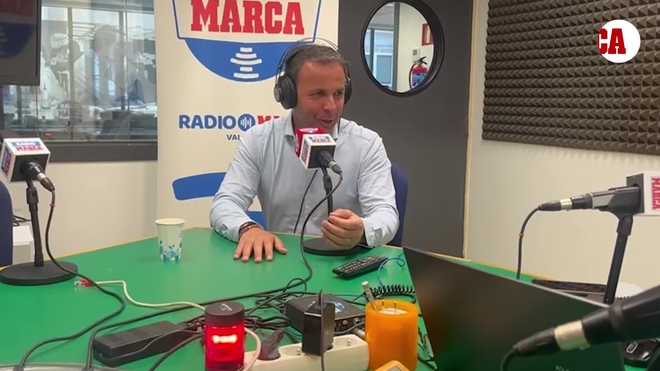 youA rollercoaster of sensations and emotions is what Javi Calleja has experienced since arriving at the Ciutat de Valencia bench in October last year. A failed promotion in last year's last breath, sung and whistled in equal parts by a sector of the Levante parish, but with the aim of returning afternoons of glory to the Orriols club.
Real Madrid coach faces second year on Granota's bench proud of the group they had to form despite the economic difficulties the entity is going through, for not being able to return to the highest level of Spanish football. Despite this, after the first third of the season, the team is immersed in the fight to be in the playoffs for promotion to the First Division.
How do you deal with the team's current streak?
It is necessary to shorten the situation, win again and return to the playoffs, but without becoming obsessed or going crazy; knowing that there are many games missing, that this category is very long and focused on each game. This is the message that must be spread. I'm worried about work and the team, which I don't see slowing down. In these last four games we didn't get the results we wanted, but I don't see the group breaking down or training poorly. My concern as a coach is how they are on a daily basis and how they get to the game. We are worried about the duel against Andorra. If this happens again, we are worried. But if we go back to the version from the beginning of the season or the image against Legans, it's less of a concern. The result comes through the game. If it is good, there will be victories; If it's not good, it will be difficult for them to get there.
So what's the goal for this season?
Our goal is to beat Racing. I know you would like him to aspire to a promotion or be in the top two. It's our dream, but I think the team has the potential to fight to be among the best. But we shouldn't put pressure on ourselves, it didn't go well for us and this year with so many changes wouldn't be positive. We have to go game by game and focus on improving each player and collective improvement to aspire to the best. We don't set limits, but we don't have to define the First Division as the only objective. It's a completely different year to last year, so we have to keep our feet on the ground and work day after day without putting the pressure of last year on ourselves.
Are there many differences between last year's squad and the current one?
Yes. Last year I arrived with the template ready. One of the reasons I decided to come is the profile of the players and my idea of ​​the game. I really like the group and I believed it was possible to aspire to promotion to the First Division with all the guarantees. Football afterwards was very cruel to us, because even though we had a great season we didn't manage to go up. This year Felipe Miambres presented me with template options and I participated in the creation, in which I feel identified. It's a younger group, they're hungrier. You can work with them towards a goal that makes them dream.
There is controversy among fans about the team's situation…
We are there because we are working very well. But it's not worth it because last year we had one of the biggest budgets in the category and this season it's the opposite, we have the same objective. This is somewhat incongruous. We must have our feet on the ground, dream, know that we are the Levant and that we all fight to rise. We will fight to be at the top and not impose limits and enjoy the team. But we cannot, when we are interested, look at the budget.
Was the coaches' meeting with the referees last week helpful?
It seems like a very good initiative to me, although sometimes we haven't been able to be as productive as we would like. We did not go into the matter because many of us had to return home and were unable to participate in the arbitration process. It's been a drama in many games.
How is the refereeing this season?
This is a serious problem and we must find a solution. I believe that there is no bad intention or conspiracy on their part, but rather that it is being poorly refereed. I'm not satisfied with the refereeing situation in most of the games I usually watch. VAR should be a tool that should not have errors. In fact, it is generating more controversy. We must look for immediate solutions. When they first told us about VAR, they said it shouldn't be used on questionable plays. This will avoid interpretations and doubts about use.
Do you still think that what happened in Butarque was not normal?
I already spoke very clearly after the game. I understand the situation of referees and, like everyone else, they make mistakes. In the action of the other day it is not an interpretable question. The first objective seems clearly cool to me and they also give me two versions. Initially they tell me that Postigo is missing and then that there is a positional offside. These situations make me understand that no one was clear about what had happened.
Injuries are also punishing a lot…
We are very critical. We are in daily contact with the medical service and look for solutions. We know this is sport and we understand injuries, but there are situations that frustrate us, because I can't find the reason why some players relapse or suffer discomfort or absence, even in training. The entire technical committee analyzes to try to change or reflects on changing these situations. The medical service also does this, because it plays a fundamental role in the team's performance. Unfortunately this is a constant, we are having more victims than we would like. We would like to look for solutions together so that when the weekend arrives, everyone is available. The truth is a very delicate topic because it involves all parties. Players, coaches and medical services, in addition to impacting team performance. If we had had more players last year we would have gone to games with greater guarantees of victory, although there is no excuse for that.
Will there be reinforcements in the winter market? And the Campaign?
We have exemplary and very good sports management. Keep an eye on the market Sometimes you have to let it out to be able to enter and we don't rule out anything. As for the Campaign, for Javi Calleja there will always be a place in his scheme. But the player has been injured for a long time, has a complicated contractual situation and the different parties have to reach an agreement.