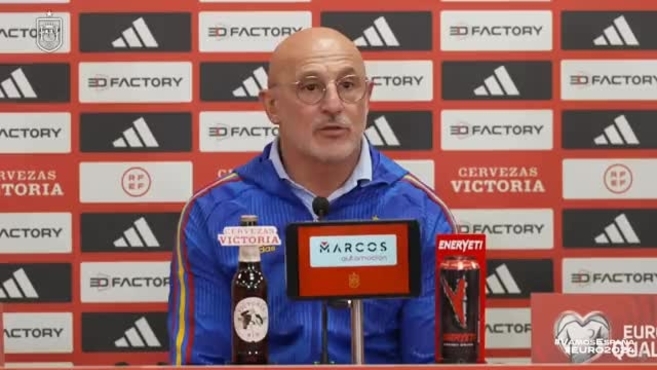 Rexultant, smiling and certain that the path taken is the correct one and the one that can lead to Espaa do something famous in the Euro. Luis de la Fuente He looks to the present, but also to a future in which he would be delighted to continue leading the national team.
Comparison with Spain 2008-2012
"These are big words, which are nice, but… We are on the way to building a great team, they won the Nations and we are classified. Praise weakens, we must continue to grow. That's the message."
Note of the year
"We will try to win all 7 games, the work of the players is excellent in 2023, I am happy and satisfied, but I am a nonconformist and this can be done better".
Schedule and injuries
"It is what it is, we respect it. There is always a risk, it's obvious, I don't believe that players get injured because they come to the National Team, that also happens in clubs. We all want there to be football, we all live by it, that every It's a puzzle to build the calendar. Injuries are a football thing."
Double pivot with Rodri and Zubimendi
"Of course you can see a Zubimendi-Rodrigo pivot, they can play together, it depends on the approach and the rival. For me, they are the two best in the world."
Elections and future
"I see myself coaching Spain at the European Championship, of course. Everything happens in football, I don't think the surprise is that it won't continue. I'm sure there won't be any problems and that we'll be there."
Schedule and injuries
"We have to be understanding, we always prioritize the health of the football player, but these are football things. We understand that everyone wants to play for the national team, they notice when the faces they make don't come. If there were games with their clubs, they could have gotten injured anyway. The calendar is what it is."
Remiro debuts?
"We have absolutely guaranteed goalkeepers, if he doesn't debut today nothing happens, he is already integrated and it is the most important step. on a whim or gift, not here "We don't give anything, whoever is there deserved it. The idea, the structure and the group are clear and made, but certainly due to some setback (injuries) there will be changes, that's football."
Lamine Yamal
"There is no doubt, since he started in the youth categories he wanted to play with us. It's an important step in his development, he has to mature a lot, as is normal. talent at the service of the team".
Be sown
"It is better that they speak well of you than bad, if they value us it is good, not because it guarantees anything, but because it gives us security. It is a double-edged responsibility, we cannot disappoint.
Rest for Gavi
"He's hyperactive, he never stops, that's why he plays so long and so well. Good players never rest. He's physically gifted."
Rotations
"I am sure of this, although we talk about it among all of us to evaluate, there will certainly be changes. We will put the best players to play tomorrow's game."
Renovation
"I am sure that when the time comes for us to talk, I am very happy and I am sure that we will reach an agreement."
Jess Navas
"I met him when he was 15 years old, we met again and he is an example of humility, of modesty… he won everything, he is a driving force. Jesús will leave football whenever he wants "He has a lot of energy and acts like no one else."